For all your NYE Celebrations we are open
Fri 28th – Sat 29th Dec 9am to 6pm
Sun 30th Dec 10.30am to 4.30pm
NYE Mon 31st Dec 9am to 6pm
SPECIAL NYE OFFERs
Comet Blitz – 63 Bursts of Colour/Crackling Stars, save £3 now only £20
OMG big bore 25 shot – save £4 on a brilliant 25 shot cake with amazing multi-coloured effects, now only £35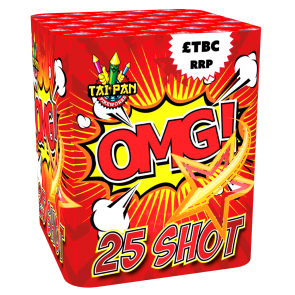 Tornado – 36 Shots large bore, Great effect and duration 70 seconds and a finale flurry of 12 shots, save £2 now only £38
Twister – 36 Shots Stunning big bore effects with a finale of whistling tails to reports with silver glitter and crackling, save £2 now only £38
Pinnacle – save £8 now on this impressive 20mm compound, it fires 100 shots, now only £60
Bring It On ! – lovely colours nice effects and shape including pinks and lemons, crackling tails, blood red with silver strobe, whistles and brocades, save £5 now only £65
Prism – This stunning mixed effect and angle barrage offers 120 shots lasting approx. 55 seconds, save £5 now only £70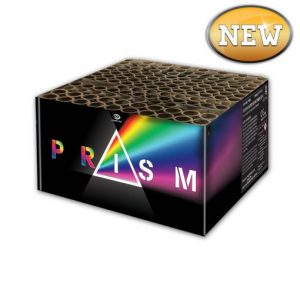 Son of Zeus – An immense 108 Shot Single Ignition with twist. Featuring no less than 5 different firing patterns with over 10 different effects and numerous colours, it is an outstanding firework, save £5 so now only £80
Big Daddy 2 – stunning effects with vivid colours and a duration of 80 seconds firing in various patterns and angles, £85 Now £80
Our Big Special offer of the season is… Tardis 2 – NOW ONLY £80 was £99 It has 126 shots for an all round show with a fantastic assortment of high quality mixed effects which lasts 90 seconds.
Trojan Spirit – a compound cake with so many different effects cramped in to just 70 seconds save £5 so now only £85
Chain Reaction – With 170 shots and mixed effects and firing angles this display in a box offers fantastic colours, lasting an impressive 2 minutes A perfect NYE Display save £5 so now only £90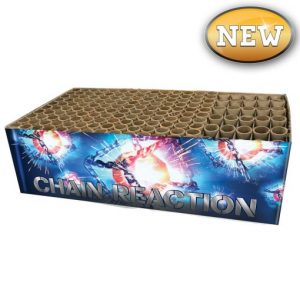 Legacy – Larger Compound cake with 100 shots straight up lasting over a minute, for a perfect end to the night, save £5 so now only £140
Kingdom Rocket Pack – 6 rockets two of which are massive…save £2 now only £75
Here's a few of our favourite recommendations perfect for NYE…
Want something small then go Ritzy Glitzy – £4 or Starring – £9
For a crackly noisy bust try Exploding Cherries – £9
Or go LARGE with…
Crown 500 – Massive strobe tails to titanium golden palms with white flashes and blue stars, £25
Scorpion – Amazing Crackling Flashing Willow just hangs in sky, £65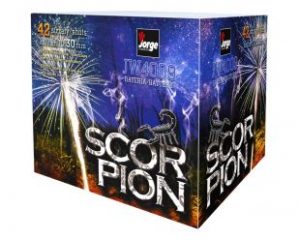 Centaur – Unusual colours and effects from this volley fired 49 shot cake, a beast of a barrage. 40 seconds of stunning power, £70
Atomic Large Rocket Twin Pack – £25, great price for two big rocket bursts with different effects
Can't go wrong with…
Energize – 126 shot stunning display in a box with  impressive effects and a finale of crackling to purple bouquets, all over 2 minutes, £90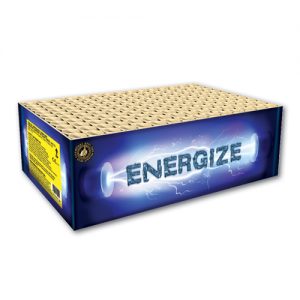 Or an Epic Gold Fanned Finale hanging in the sky… Coliseum – £99
Wow Wow Wow ! – is all you will say when you see the LEGEND compound cake, 30 seconds that blow your mind £160 amazing finale barrage.
Then there's two of our biggest Compound Barrage…
Awakening – 266 Shots Combining outstanding effects with a mix of straight and fanned firing patterns, and with a duration of 165 Seconds, Awakening is not one to be missed! £199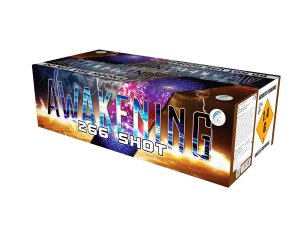 Retribution – A monster of a 200 shot compound, offering a varied firing patterns and massive professional quality breaks, with a variety of effects including blue/red stars with blink, blue tail to blue star to brocade crown, green tail to green star brocade, silver whistling, colour tails to gold blink, colour coconut to chrysanthemum breaks and silver whistling. Immense, loud and full on! – £220
Pop along to our shop where we will give you all the advice you need from our professional team. We also take card payments to make your purchase easier.
Don't Forget LIKE our Facebook  page to keep up to date with our displays and shop offers  and let us know what you would like to see new in 2019.
The team at Whitelighting would like to thank you for all your support this year and also wish you all a very Happy Christmas and fantastic 2019.
Vanessa and all the team