Wedding Fireworks
Fireworks are a way of making your day stand out from others, and to achieve this with even greater style why not use professionals where design artistry is of the utmost importance, making your show stand out by using new ranges of pastel shades and unusual colours complemented with new effects like swirling flowers alongside some favourites, to make the crowd go wow. Choreography is key, filling the sky with patterns and layers, like a colourful rainbow arch or a loud whistle and crackle to make you jump with surprise.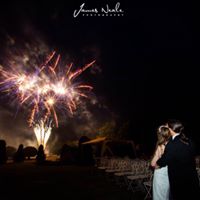 Look no further and get these fireworks, they are more than worth it.  The oohs and aahs from our mesmerised guests made for a truly memorable occasion. The display was perfectly judged, building to a spectacular finish. Vanessa and her team were hugely professional and very much went the extra mile to make our day really special, we cannot thank them enough for everything they did. – Anika 2017
Many of our firework displays are in Cambridge and Norwich, we cover Cambridgeshire Norfolk Suffolk Bedfordshire and Lincolnshire counties. Unless they are large displays, we can agree on additional transport costs to go further.
Our wedding firework displays start from £800 +vat for a full 4-5 minute display with a fantastic finale. However we can design a show to any budget you have, ie. for an extra few hundred you could have a longer display or the same time however a fuller and more artistic display.
We have some packages laid out for you to give you an idea of what we can offer, but we try to keep as flexible as possible to suit individual needs. Each display is uniquely designed to your needs and budget.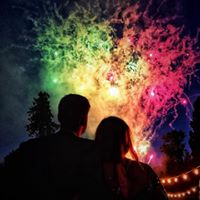 Or why not go to the next level of surprise by personalising the display with your initials lite up in a firework bottle of champagne that has a little popping surprise, a heart to show your love or even something more unusual and meaningful to you, be it a tractor or teddy bear. Whatever your ideas they can be brought to life.
It can also make a fantastic surprise present to the bride and groom who already has everything… nothing like getting them to step outside but for what??? As they stare into the darkness, then a friendly face appears "congratulations please press this button" then with a whoosh the sky becomes alight with dazzling sparkling effects floating in the sky like twinkling diamonds. Something they won't forget.
And don't think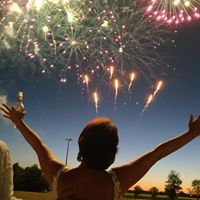 it's too hard to arrange as all you have to do is contact us, set a budget, give us your ideas and we will do the rest, from site visits, risk assessment, liaising with the venue, design firing and clearing up. Also don't imagine oh it will impossible to have fireworks as they are too loud, the venue will say no, we can also design stunning special low noise displays to please most venues. These are becoming ever popular too.
We just wanted to say a HUGE thank you for the absolutely incredible fireworks. They quite simply blew us away and were the highlight of our wedding for us and our guests. We haven't stopped talking about how amazing they were!!! – Alex 2017
Fireworks are my passion; I just love painting a picture in the sky, making the crowd stop in wonder and cheer so loud. This comes across in our displays for you.
Other questions my be answered on our FAQ page, if not feel free to drop me an email or give me a call and I will happily answer any questions you have.