We have tried to put together some answers to questions we frequently get asked for you. This should help you see how easy it is to add some sparkle to your event with fireworks…
Do you just do fireworks for big public events?
No we design displays for private parties, weddings, corporate events, military events, large public events, concerts, Christmas light switch on and so much more. This is certainly a year round experience you can expect to see for any special occasion big or small.
"We won't be able to afford fireworks"?
Our displays start from as little as £600+vat for say a small private party or local wedding, however we can design a display to any budget you have. £1k or 5k can be fired in 10mins or 1 intense minute. For this reason we don't have any set packages as each display is uniquely designed to your budget, time and to enhance the venue.
Do I need to get permission or licences to have fireworks?
The only permission you need is from the venue owner or land owner. The venue its self will specify if they allow fireworks on their site or not and/or if they will only have low noise displays. However majority of venues and sites have no restrictions.
When we do a fully on site survey we will say if extra permission is needed from the CAA (civil aviation authority) if display is in 5 nautical miles of an airport/RAF base, the coast guard or harbour master, the highways agency and rail network, however we will notify and get the clearances which are needed. On some occasions for the larger events it will be the event organisers who get permission from local authorities if on council/public land, and if any road closures are needed.
It is however courteous to let local farmers and residence know about the time of the fireworks so not to cause undo distress to anyone.
As for licences, these are not needed. To use Cat4 fireworks (large display fireworks for professional use only) a 'person of specialist knowledge' must use them. We are trained through the BPA (British Pyrotechnics Association) City in Guilds Firer and Senior Firers scheme and have a 10m public liability insurance to cover all fireworks at our events.
  Can I have fireworks anywhere?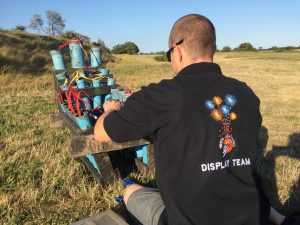 In an ideal world we would love large open spaces or a fantastic river bank to firer our displays, however this is not always the   case. We can fire fireworks in the majority of places however the choice of type of firework will be change to appropriately fit the site  hence the importance for a thorough site visit. This doesn't mean the display won't still wow the crowd though as this where the  artistry of our designs comes into their own.
Some venues now prefer a low noise display, so we use fountains, strobes, glittering comet tails, and then high in the sky falling leaves/waterfalls effects, crossettes bursts and much more. This causes less disturbance to the local people and animals alike.
Can I have fireworks any time I like?
Fireworks can be fired between 7am and 11pm all year round, 365 days! These times are extended for 4 special days. 5th November until midnight, New Years Eve until 1am, Diwali until 1am and Chinese New Year until 1am.
What happens if it is raining?
The Great British weather doesn't stop us. All are fireworks are waterproofed so we can fire in rain. We can fire in most conditions thrown at us and I especially love the magic of the snow. The only thing which can make a difference is high winds. When setting the site we always allow for changing wind conditions and have contingency plans, simply moving where the site or crowd is to make the event safe or the firework content can be adjusted so as not to hang too long in the sky ie willows. Only on extreme occasions may we deem it not safe to fire the display and this will be agreed with the event organiser. This has only happened once in 15 years.
What's included in the price, do I have to pay extra for a site visit?
Everything that is needed to make the display happen is included in the price. From the initial discussions to full site survey, risk assessments, permissions and notifications, insurance, liaising with the venue, display design/planning, set up on the day, firing of the display, clearing up the site after and any help and advice which is needed by anyone concerned throughout the process. We like to make it an easy process for anyone to have fireworks and take all the worry and work away from them. All you need to do is discuss your ideas with us and set a budget and we will do the rest to make your dreams reality.
Any other questions you many have just drop us an email or
call us and I will be happy to answer it for you.