Carefully planned creative displays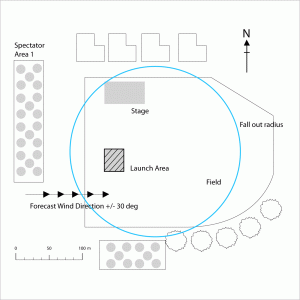 All our events are carefully planned and safety is paramount. We have the City in Guilds BPA training, 25 yrs of experience, maintain the best equipment and actively seek the latest advances in the industry. Some of our team holds design degree which really helps creative unique displays.
Full site survey & risk assessment
We will come out and do a full site survey and risk assessments to see what would be possible and how best to enhance the venue giving you a spectacular display.
Your ideas, our creative display
We can work with you on design ideas for something that little bit special. We can make logos or give a message in fireworks or even make some dramatic explosions for a themed event. So all you have to do is discuss your ideas then sit back and let us bring it alive.
Liaising with your staff and getting an clearance
We will liaise with the venue staff, contact any services needed like the Civil Aviation Authority for any clearance needed. If you need any tips for running events from our years of experience then just ask and we will always do our best to help or point you in the direction of another service.
On the day
On the day we will arrive discretely, set up the display and finalise any details on firing with the designated person. You don't need to worry about the weather as we can fire in all weather apart from the most extreme wind.
Site clearance and disposal
Once the display is over we do a full site clearance to is reasonably practical in the dark. And if any live material should be found by venue staff on the next day will come and safely dispose of it.
Behind the scenes…
Meeting to discuss your requirements is just where it all begins.
Colour themes, effects, music, sfx
Each show is uniquely designed, with colour themes, effects, music, sfx etc all to a precise firing time.
Fireworks selection & sequencing
Then it's time to pick all the fireworks required from our stores from quiet comet tail candles, z-firing barrages to huge aerial shells. Once the picking is done then each firework has to have timing delays and fuses added to join them into the correct sequences for the display.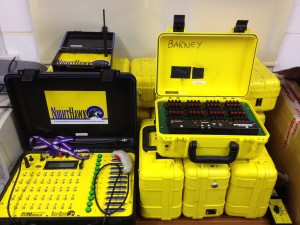 Fireworks are racked for the right configuration
Once carefully packaged for the journey all the equipment is organised what will be needed for the show. We have specially designed racks which hold the fireworks in the right configuration. The larger busts you see on a display are in fact shells which have to be loaded into tubes which they are fired from as we don't use rockets like you would in your gardens.
Final safety checks, secured, fused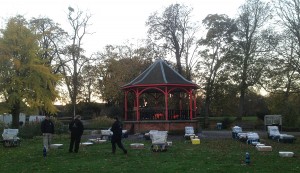 Once on site final safety checks are carried out and the set up begins. The racks are laid out across the site and secured together. Then the fireworks are carefully loaded into the correct position. These are then fused together where needed and a green hand lighting fuse or electrical igniter's inserted.
Protection from sparks and weather
Now each fuse and firework has to be wrapped in tinfoil, this is to stop a firework at the beginning setting another off before its needed with its sparks. Then to add a protective cover for the Great British weather!
Wired and electrically fired
Now finally if it is to be electrically fired each firework has to be wired into a junction box, then cables can be run to the firing panel and fingers crossed all tests up first time. In larger locations we can also wirelessly remote fire.
Ready to fire
Just time to wait for darkness! Firing time see final safety checks and site cleared of any unauthorised personnel. The firing team will be kitted up in flame retardant overalls, balaclavas, hard hat, ear defenders, face mask and gloves.
5-4-3-2-1 Ignition!
Then we are off and the magic begins. Once the display is over and the crowd leaves with a wow!!!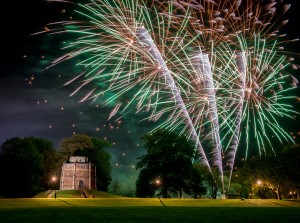 After the display is finished
Time to let everything cool off before the final safety checks are carried out. Then it all has to be taken apart loaded up and the area raked clean, before our homeward journey… leaving nothing but incredible memories.